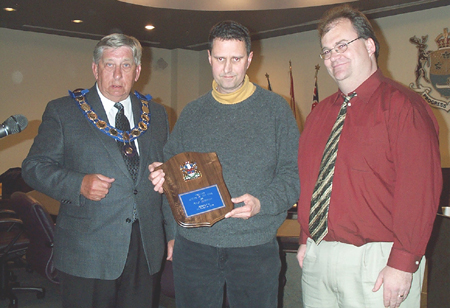 Doug Abernethy, center, was presented with a plaque Monday February 11, 2002 by Dave Dawson, right, The Packet's assignment editor, for being Orillia's 2001 Citizen of the Year. Mayor Ron Stevens, left, congratulated Abernethy during the ceremony at City Hall. Readers of the Packet nominated Abernethy, the founder of Orillia Against Drunk Driving, for his tireless work for the last 5 years, to make an Alcohol Ignition Interlock device mandatory in Ontario, for those convicted of drinking and driving.

" He has taken a personal tragedy in his life and turned it into something positive with his relentless fight against drinking and driving," said Orillia City Councillor Maggie Buchanan.

During the ceremony Doug thanked the many people who wrote nominating letters to the editor of the Packet. "It is a real honor to be chosen as Orillia's Citizen of the Year for 2001." " I fully believe that the passage of legislation for interlock in Ontario will send a clear message that drinking and driving will not be tolerated." "People who operate a vehicle after they have been drinking place not only themselves at risk, but other people who share the road with them." --Doug Abernethy.
---

Questions about our web site please contact our webmaster
Orillia Against Drunk Driving is not affiliated with MADD Canada